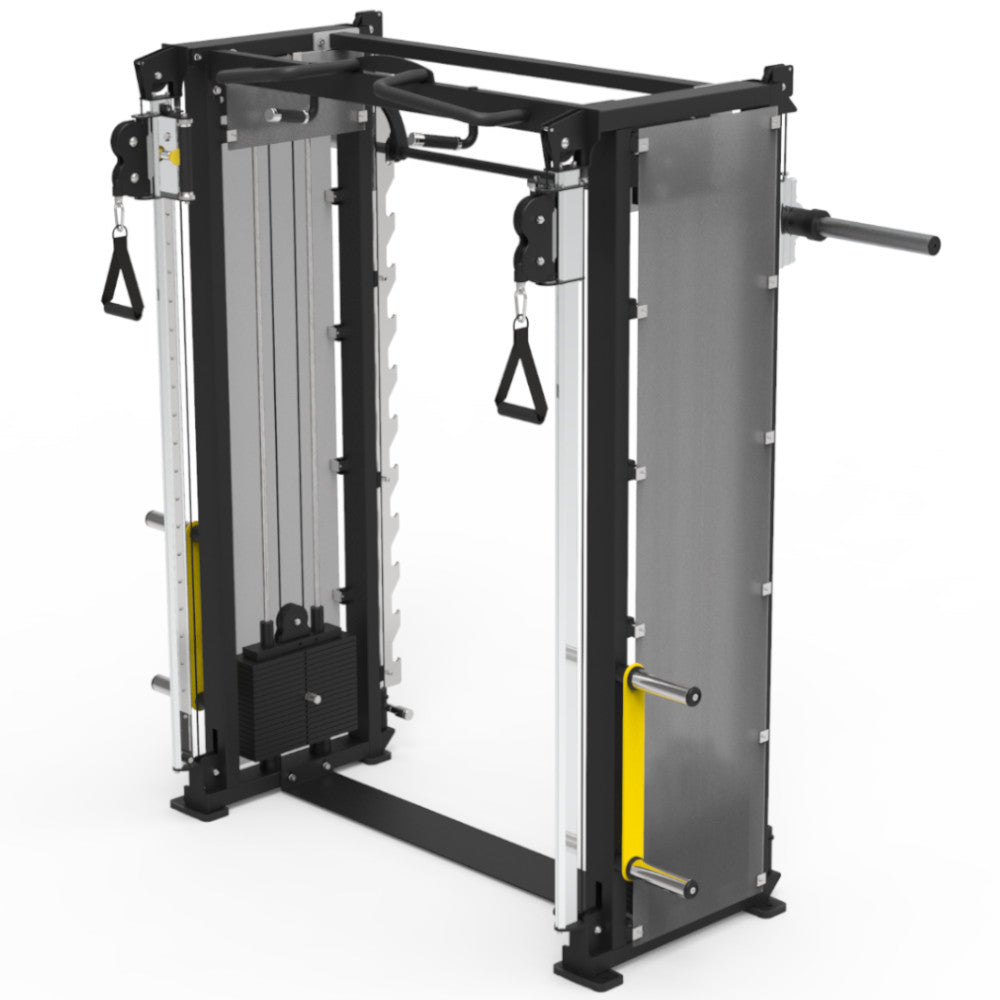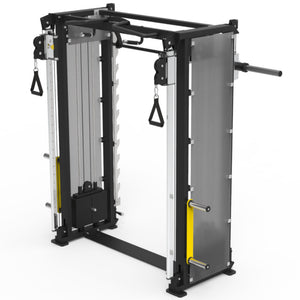 DESCRIPTION
Pegasus 2S - 2 in 1 Pin Loaded Smith Machine & Functional Trainer (Half)
We believe that commercial equipment should feel just right for the user. That's why we have been dedicated to build smooth as well as heavy duty equipment, giving the user a sense of comfort and confidence that helps them get the best possible results when working out. 
The Pegasus 2S - 2 in 1 Pin Loaded Smith Machine & Functional Trainer (Half) has been designed to benefit all users wanting variety and accessibility when training. Built with heavy duty commercial grade steel and weighing a solid 440kg's, this machines versatility is second to none. A machine best for commercial use while maximizing floor space with two machines in one, offering a full range of resistance training options for all users while multiple users can be training at the same time. Our Smith Machine Barbell has a load capacity of 2000LB ready to withstand some serious weight lifting.
Our attention to production quality is second to none. Our ergonomic designs and standards include using the best component parts while applying the most efficient assembly processes.

NOTE: This is a "Made to Order" product with approx. 60-90 day lead time. Customisation available upon request such as Shield Cover Wrapping, Steel Framing Colour & Upholstery Colour. Customisation requests will delay lead times. Default Weight Stack is 140kg's (70kg's each side of Functional Trainer). Additional 10kg weight plates available for $125 per 10kg's up to 120kg's MAX.
Dimensions: 2450*1400* 2283mm

Net Weight: 440kg

Ratio: 1:1

Weight Stack: 140kg (70kg each side of Functional Trainer) (28pcs) 
Weight Plate: Steel Plates
Adjustable: Yes
Commercial Grade
Weight Plate Storage
Pull Up Bar
Smith Machine
Functional Trainer
Warranty 
Structural Steel Framework: Lifetime.
Rotary Bearings, Weight Stacks, Pulleys, Guide Rods, Structural Moving Parts: 1 years.
Cable, Linear Bearings, Springs: 1 year.
Upholstery, Handgrips, All Other Items Not Listed: 6 Months.
People who bought this product, also bought