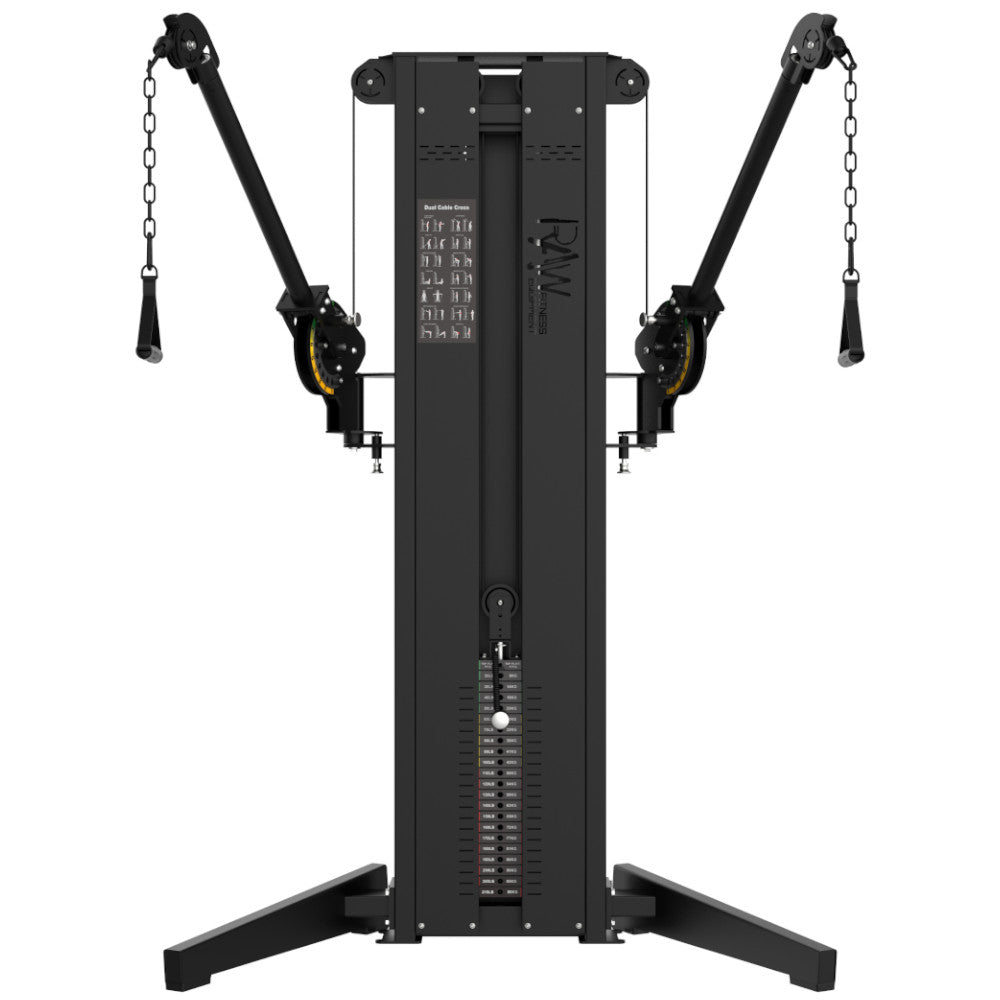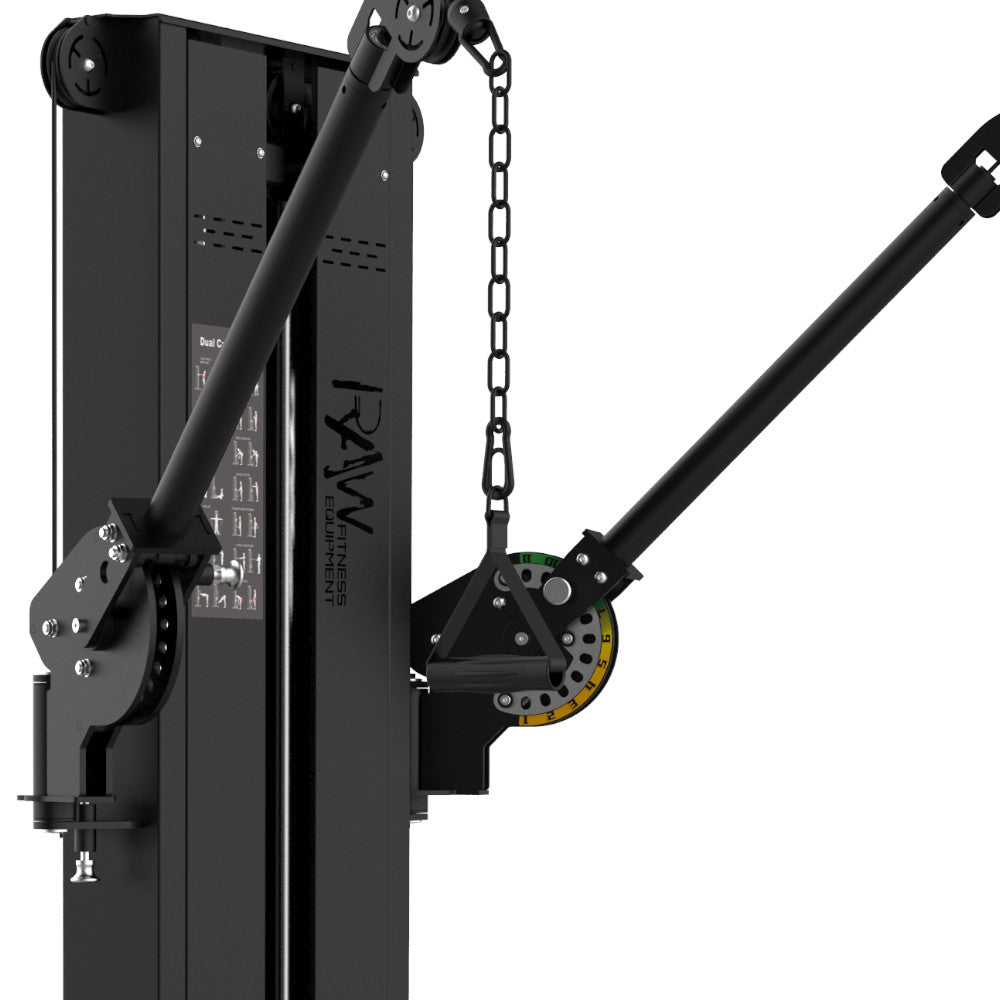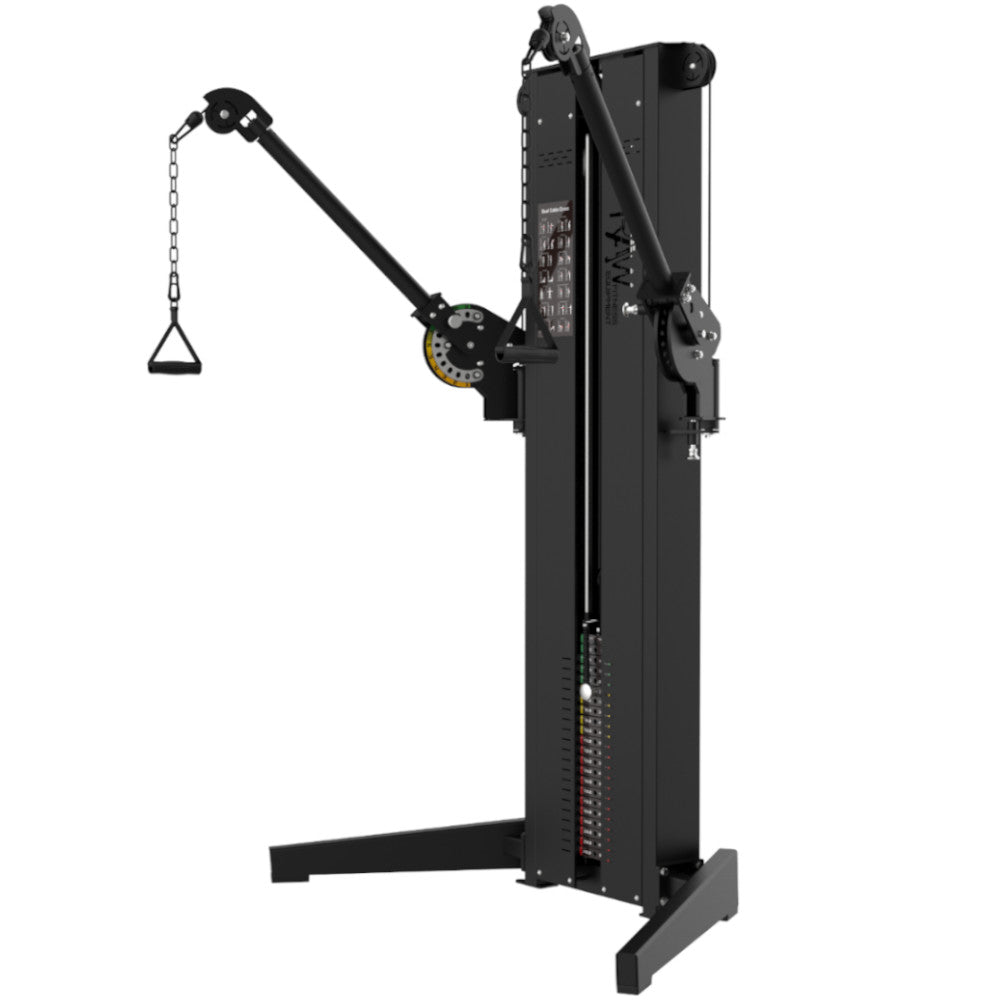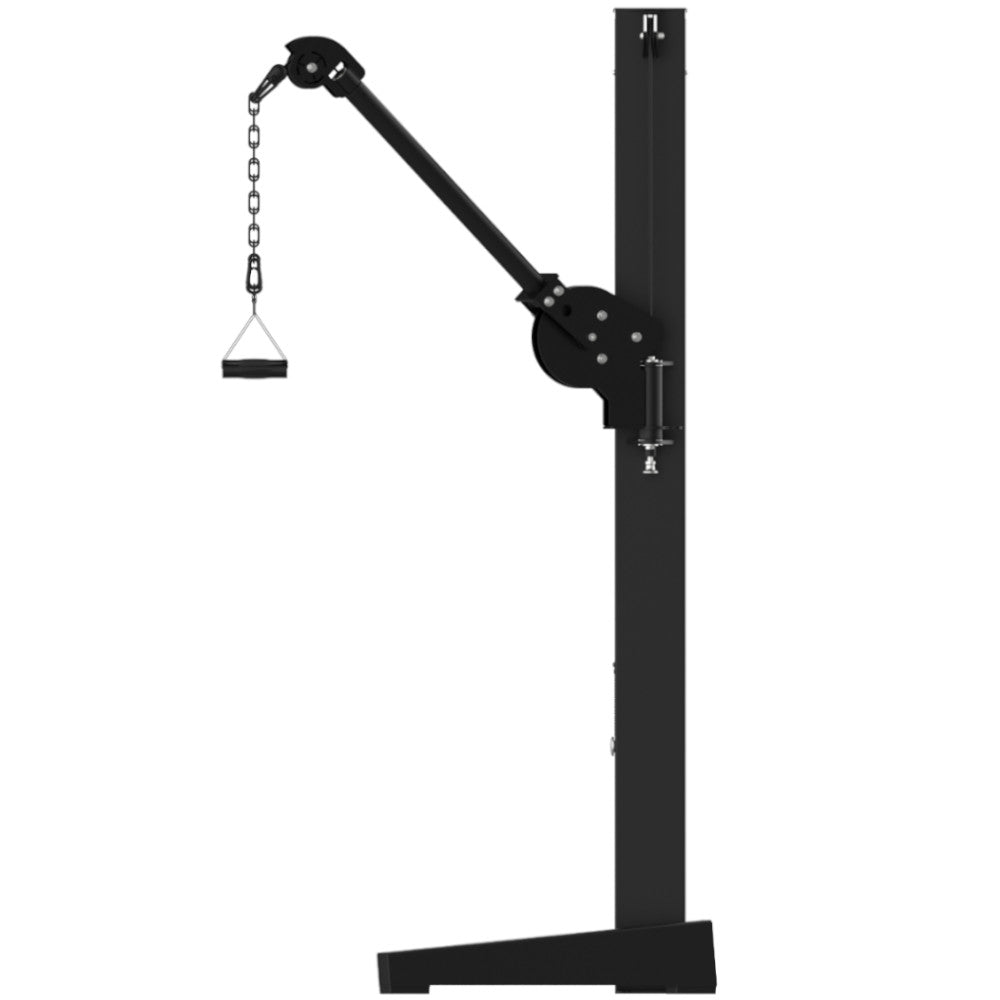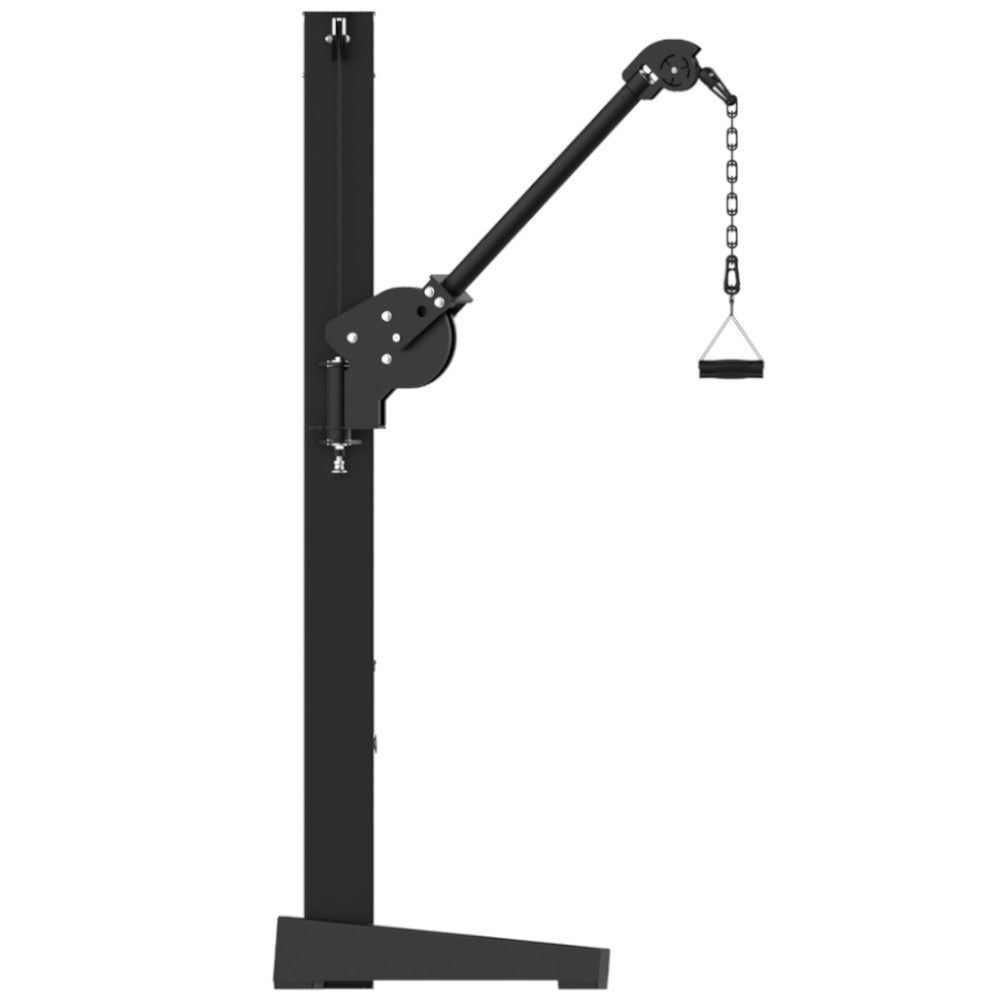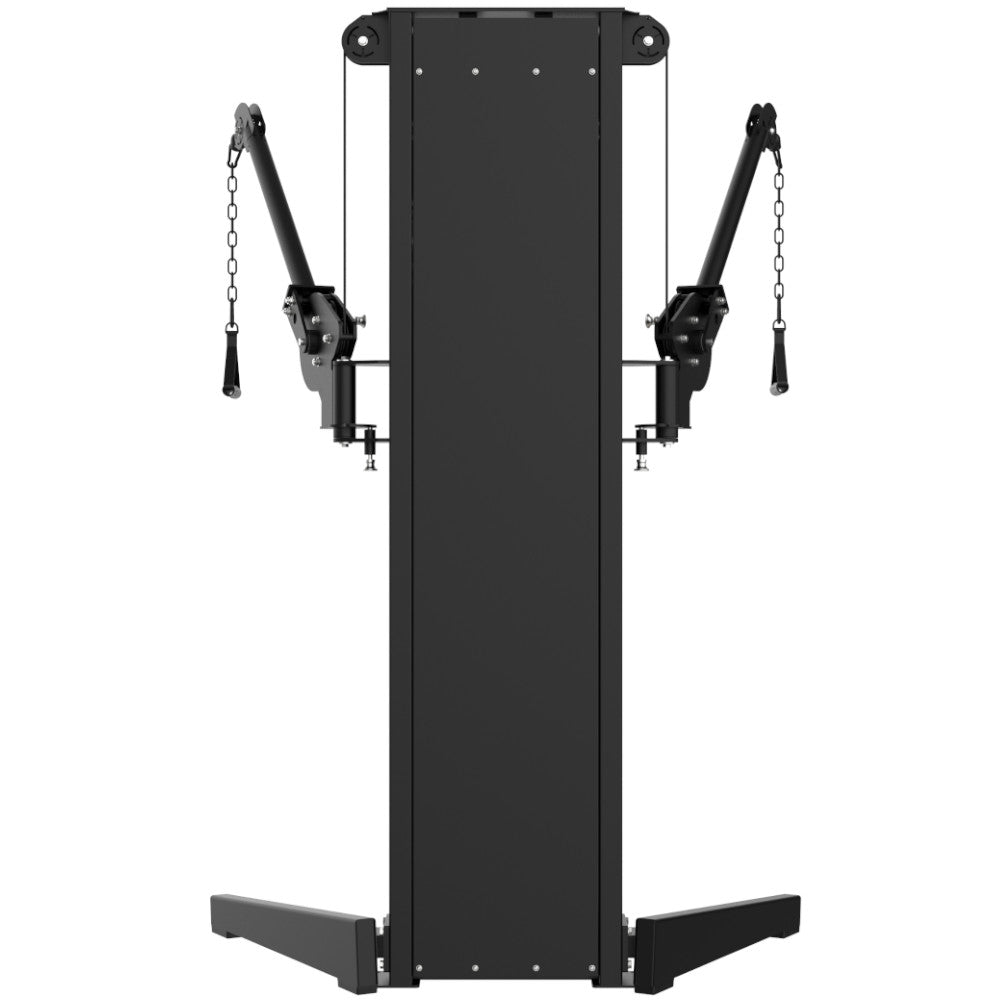 DESCRIPTION
Dual Cable Crossover Single Stack Station - 100KG
Our Dual Cable Crossover Single Stack Station has a small but versatile footprint, making it perfect for any commercial space. Built with heavy duty steel including a net weight of 220kg's, this unit is full of pinpoint adjustments, pulleys and substantial cable travel allowing for users to experience a more free range of motion from multiple angles.
Arms adjust with 11 vertical angles and 5 horizontal angles, allowing for more specific and practical movements. With a single weight stack, handles can move independently for single as well as alternating arm exercises. 
This weight stack is exactly 103.5kg in total with a 1:1 cable ratio when both cables are occupied and a 2:1 ratio for a single use cable, boasting a cable rating of 450kg's. Being completely accessible to all with an opening footprint and supported by rubber feet to prevent any cosmetic damage to the machine or surface area, this unique design is one of it's kind.
Our attention to production quality is second to none. Our ergonomic designs and standards include using the best component parts while applying the most efficient assembly processes.
The widest point of the Cable Crossover from Arm to Arm - 2762mm wide.
From the grounded foot support to the other foot - 1430mm.
The back of the machine to the arms extended forward at the front - 1100mm.
Generic dimensions are listed below as follows.
Specifications
Dimensions: H2100mm x W1430mm x D800mm approx
Net Weight: 220kg
Adjustable: 11 Vertical Angles | 5 Horizontal Angles
Arms at Widest Point: 2750mm
Each Arm Length: 815mm
Weight Stack: 103.5kg
Weight Plates: Steel
Cable Ratio: 2:1
Cable Rating: 450kg
Commercial Grade
Warranty 
Structural Steel Framework: Lifetime.
Rotary Bearings, Weight Stacks, Pulleys, Guide Rods, Structural Moving Parts: 1 years.
Cable, Linear Bearings, Springs: 1 year.
Upholstery, Handgrips, All Other Items Not Listed: 6 Months.
People who bought this product, also bought