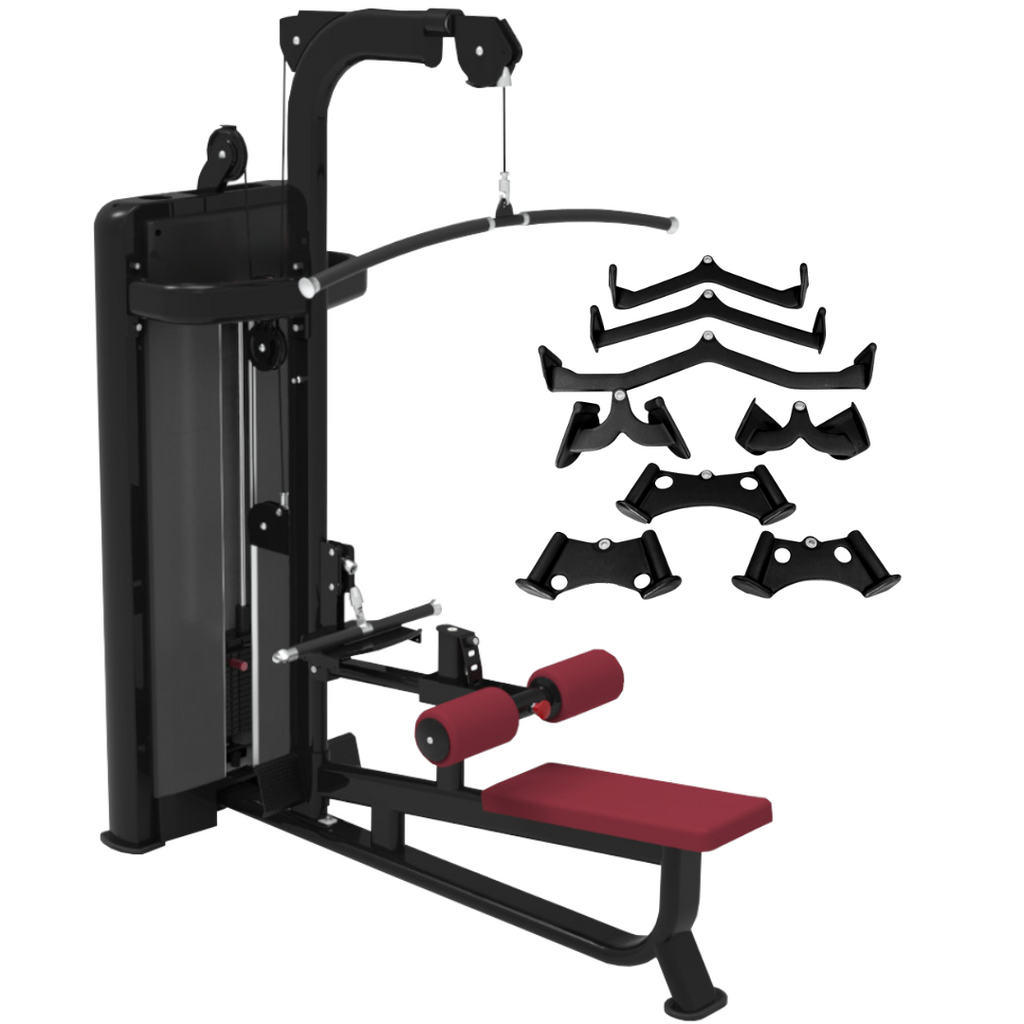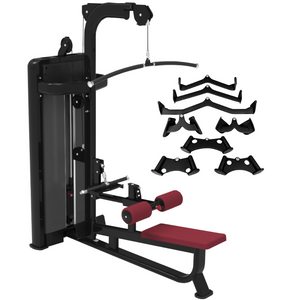 DESCRIPTION
Pegasus 1S - 2 in 1 Lat Pulldown & Low Row Machine
We believe that commercial equipment should feel just right for the user. That's why we have been dedicated to build smooth as well as heavy duty equipment, giving the user a sense of comfort and confidence that helps them get the best possible results when working out. 
This 2 in 1 Commercial Lat Pulldown & Low Row Machine weighs a sturdy 220kg's, fitted with non slip pads for safety and high density foam, PU leather for optimal user comfort as well as well as boasting a cable load capacity of 1400kg's. Our 2 in 1 machines are designed to fit space restricted areas giving you dual action training with fast, safe and easy conversions.
Our attention to production quality is second to none. Our ergonomic designs and standards include using the best component parts while applying the most efficient assembly processes.

NOTE: This piece comes with black framing and black upholstery.  Default Weight Stack is 100kg. Additional 10kg weight plates available for $125 per 10kg's up to 120kg's MAX. 

Back Training Bar Super Pack
Our 8pc Back Training Bar Super Pack are used in a variety of training methods targeting all areas of your back. The textured grip means no slipping and more focus + control on form during exercise. The multi-grip designs are suitable for seated rows, lat pull-downs and much more with 8 size variants. 

The handles include a skin-safe coating making it easier to lift heavy without building up calluses, ripping or tearing your hands. Allowing more stability and control when lifting, our Back Training Bars encourage consistency and progression with all levels of training!
Specifications
Dimensions: 

1250*1750*2200mm
Net Weight: 220kg
Ratio: 1:1
Weight Stack: 100kg (20pcs)
Weight Plate: Steel Plates
Adjustable: Yes
Commercial Grade
Warranty 
Structural Steel Framework: Lifetime.
Rotary Bearings, Weight Stacks, Pulleys, Guide Rods, Structural Moving Parts: 1 years.
Cable, Linear Bearings, Springs: 1 year.
Upholstery, Handgrips, All Other Items Not Listed: 6 Months.
People who bought this product, also bought